Superman

, my novel for NaNoWriMo, has hijacked my life. Sorry. I know my blog sucks right now. Yet, I am having so much fun with my characters and plot, I'm only just sorta sorry, not a lot sorry. As of tonight, I have

16,836 words

written, leaving only 33,164 words left to write in the next 21 days. I think I'm doing pretty awesome. Oh, forget humility. I think I'm awesome.
In actual book news, I'm participating in the Follower Appreciation Hop! It starts next week on Wednesday November 17th. I really do appreciate my followers, especially those that actually read my posts. This is for you!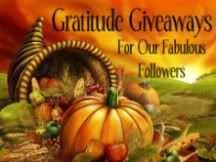 I'm not exactly sure what I'll be giving away yet, but it will be awe inspiring. Promise!
Then the best news for last: I got a package from Bloomsbury at work today. Inside was the

best thing EVER

! I'm not able to get a picture loaded (urg!) so click
HERE
to find out. Yes, I really did get the book I was waiting for, except I don't have to wait for December anymore. I have not been able to stop

smiling

since I tore the seal. Yeep!